PyHou – Houston Python Enthusiasts! 10-15-19
October 15, 2019 @ 7:00 pm

-

9:00 pm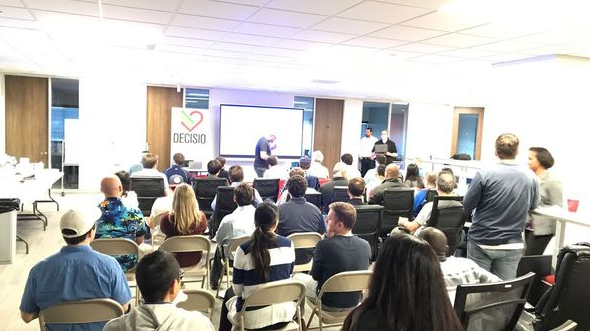 This month's topic is still TBA — stand by for details, and please write to us if you have something you'd like to share in an upcoming meetup.
VENUE AND SPONSOR: We'll be meeting in the SECOND FLOOR meeting room at Decisio Health's ( https://decisiohealth.com/ ) office at 3900 Essex Ln. #240, Houston, TX 77027. A big THANK YOU to Deciso for continuing to welcome us!
FOOD/DRINK: Decisio will be providing Food (both vegetarian and meat varieties) as well as water, beer, and soda. If you have alternate preferences, please feel free to bring your own (perhaps from Central Market, next door). FUTURE FOOD/DRINK SPONSORSHIP OPPORTUNITIES: If your company would like to sponsor food/drinks for an upcoming meetup (and share a bit about your organization), please get in touch!
SLACK CHAT: Join in on the discussions in-between the meetups in our Slack channels. Join the PyHou Slack here: https://join.slack.com/t/pyhou/shared_invite/enQtNDAwMzk0OTA0ODY2LWJmM2ZmNTdmOGFmMmQ2MTUzNGFkNjJkMTg4MWU3OTViMGI4MWMyZGJjZGJjODQyNTE4MTZiMjBjMWYxNGUxMTc
PARKING: Plenty of marked VISITOR spots are available in the garage. Please DO NOT use "Reserved" parking, especially "Reserved Kelsey-Seybold" parking.
AFTERWARDS: Note that air conditioning ends and custodial services begin at 9:00pm. Feel free to mingle afterwards, however we need to exit the office itself by 9:30pm so office staff can go home to their families.
Share your Lightning Talks! A "lightning talk" is a quick mini-presentation (5 minutes maximum) on any Python topic you'd like. We'll save time for 2-3 of these each month: to save a spot, post a comment with your talk's title/topic. Beginner topics are especially welcome!
Presentations Wanted: If you'd like to share a topic with the group at an upcoming, let's talk!